Fire Warden Training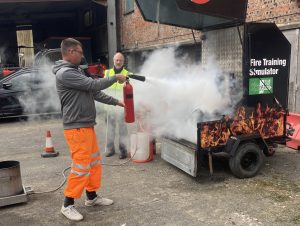 Fire awareness and safety is paramount here at Barr Environmental Limited and it is important that we ensure that we are sufficiently and adequately equipped to deal with any incidence of fire and that the health and safety of our staff is maintained at all times.
On Monday, a number of selected staff undertook Fire Safety and Warden Training. It is important that all of our responsible persons are provided with sufficient knowledge in the maintenance of fire fighting and detection equipment, as well as the procedures and checks that must be carried out on a routine basis to ensure that all systems are maintained.
A total of six Barr staff undertook the training with a further four also taking part from our friends at Breedon and MCLH. Staff underwent a theory and practical element (pictured), we would again like to thank Tony Priest of Mclaughlin and Harvey Limited for taking the very interesting and informative session.
Respiratory Awareness Week
We at Barr take the Health and Wellbeing of our staff very seriously, as such we were delighted to be a part of Mclaughlin and Harvey's Respiratory Awareness Week.
Work-related respiratory disease covers a range of illnesses that are caused or made worse by breathing in hazardous substances that damage the lungs such as dusts, fumes and gases. The most prevalent of these diseases are chronic obstructive pulmonary disease (COPD), asthma and silicosis.
Overall there are currently approximately 12,000 deaths each year due to occupational respiratory diseases, about two-thirds of which are due to asbestos-related diseases or COPD. In addition, there are about 35, 000 people who worked in the last year, and 130,000 who had ever worked who currently have breathing or lung problems they thought were caused or made worse by work and a further estimated 13,000 new cases.
There are a number of industries and workplace activities which are linked to a high incidence and greater risk of respiratory disease, two of which is the construction and waste management industries. Although Barr are fully aware of the hazards and risks of respiratory health it is always good to take the opportunity to raise awareness of this important issue amongst our staff, as we seek to continually improve health and safety on our sites.
The weeks activities included a training webinar held on both the 22nd and 24th of June, with SHEQ Advisors giving their expert advice and further insight into respiratory issues. We were then also taken through the control measures available to us by 3M and the proper maintenance of these. We would like to thank all parties who assisted with a very informative and eye opening presentation.
Throughout the week we have also raised awareness through Toolbox Talks and posters, with a few of the guys even taking the opportunity to get a photo taken showing their commitment to protecting their present and future health.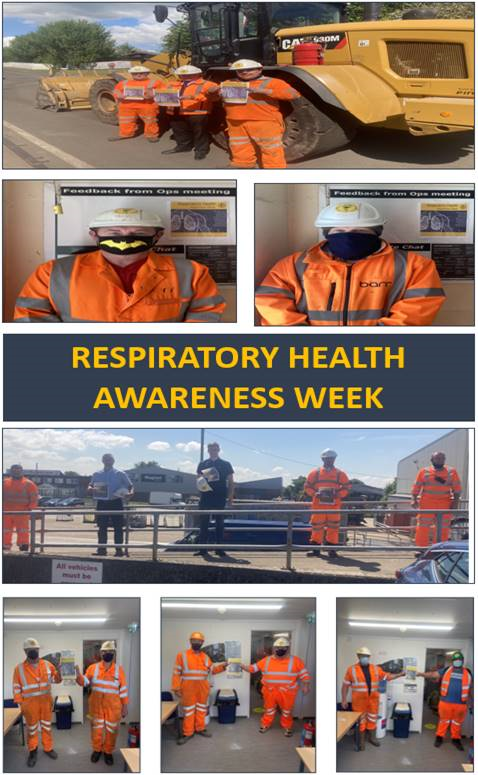 Merry Christmas from everyone at Barr!
Merry Christmas from everyone at Barr!
In what has been a difficult and unprecedented year, the best time of year is finally here, Christmas! Time for everyone to put their feet up and have at least a couple of days off to celebrate and enjoy the festive season with their loved ones.
Christmas and New year is a time for reflecting and looking back on the past year, and with the Waste Industry being categorised as  a "Key Industry", we could not be any prouder of our team here at Barr for combatting the many challenges and complexities that we have faced and overcame during the pandemic.
We cannot emphasis enough what a great job all of our staff have done this year in working safely under strict Covid-19 protocols throughout the pandemic, and now is finally the time for them to take some well-deserved time off.
A reminder of our Festive Closures for all of our sites including HWRC and Skip Hire, is outlined below;
Friday 25th December for Christmas and Saturday 26th December for Boxing day.
Friday 1st January for New Year's day and Saturday 2nd January.
Skip Hire will also be closed both Sundays 27th  December and 3rd January.
We are also extremely grateful for the Continued support and understanding from customers, contractors, sub-contractors, and fellow Waste Management companies which has been consistently provided throughout this past year, and we are extremely grateful for this and we hope that you all have a great Christmas and a healthy and prosperous New Year.
Here at Barr we are looking forward to continuing to serve our local communities by managing waste from your homes and businesses in the safest, most secure and environmentally friendly way throughout the Festive period and we look forward to continuing to do so throughout 2021.
2020 Festive hours
As we enter December and our festive arrangements are now confirmed, the countdown to Christmas is officially on for Barr staff!
It has been a long and difficult year for everyone, however, it is nice to finally have something to look forward to and celebrate and there is no one more deserving than our staff at Barr, who have done an amazing job keeping our operations running safely and smoothly throughout the pandemic. We would like to take this opportunity to thank each and every one of them for their hard work, dedication and understanding over the last year.
The Festive days that all Barr sites and Skip Hire are closed are, as follows;
Friday 25th December for Christmas and Saturday 26th December for Boxing day.
Friday 1st January for New Year's day and Saturday 2nd January.
Skip Hire will also be closed both Sundays 27th  December and 3rd January.
But don't worry, between Christmas and New Year we will be operating as normal Sunday to Thursday at all Barr sites including Household Waste Recycling Centres at Skares and Heathfield, and Monday to Thursday at Barr Skip Hire. Normal hours will resume after the New Year Celebrations for all of our sites and Household Recycling Centres on Sunday 3rd of January with Barr Skip Hire resuming on Monday 4th January 2021.
test case study