Barr Environmental Limited Delighted to Sponsor Whiteleys Retreat during their 2020 Virtual Kiltwalk.
Posted: 14.09.20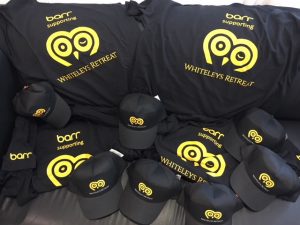 We continue to fully support our chosen charity Whiteleys Retreat by sponsoring their 2020 annual Kiltwalk. Unfortunately the original Kiltwalk, which was scheduled to take place on the 26th April, had to be cancelled as a result of the situation with COVID-19 at the time and subsequent lockdown. This was extremely disappointing for all participating charities alike, and in particular as it is Whiteleys Retreat's biggest fundraising event of the year.
However, thankfully the Kiltwalk organisers devised an alternative and safer fundraiser, which takes into account strict Covid-19 precautions, in the form of a virtual fundraiser. This allows participants and businesses to take part wherever they want and donate what they can. All participants have been asked to send in their fun snaps and pictures of their fundraising experience and activities.
All money raised through donations provides Whiteleys Retreat with reassurance that they can continue their great work in welcoming families for much needed respite at an uncertain and stressful time in their lives for the coming year. Whiteleys Retreat offer families much more than simply a roof over their heads for a week, they provide therapies tailored to each family member during their stay which help to build resilience, provide coping techniques and above all else, allow them to spend valuable time together, as a family.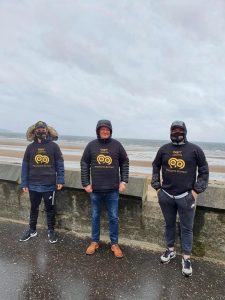 Members of Barr staff  joined Bernard from Whiteleys Retreat on Friday 11th September, to complete our fundraising walk which took us 8 miles along Ayr seafront to Greenan Castle and back on what turned out to be a wet and blustery but still very enjoyable day.
A one off donation of £1,500 has been provided by Barr for Whiteleys Retreat to sponsor our fundraiser event as we continue our support for this great charity. We also donated/ kitted out all Whiteleys Kiltwalk fundraisers with free Whiteleys Retreat t-shirts and baseball caps as we aim to spread the word, making more people aware of Whiteleys Retreat and the valuable work they tirelessly carry out.
It has also been announced that the Hunter Foundation will be "topping up" any money fundraised by a whopping 50%, so please donate generously to such a great cause.
For anyone wishing to donate and support this great cause please click on the attached link: https://donate.everydayhero.com/d/NoJRlQ-sW1yzBGoAnVyqLA/amount/3807695e-25a1-4e60-a159-e1a95080951f and select #TeamWhiteleys