National Recycling Week "Together – We Recycle"
Posted: 23.09.20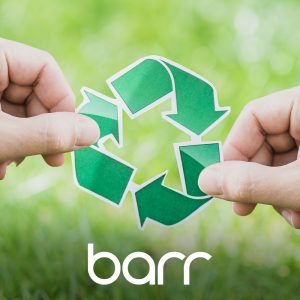 This week (21st – 27th September) is National Recycling Week with this year's campaign being launched as "Together – We Recycle."
In what has been a difficult year for individuals, businesses and industries alike, we would like to thank all of our staff who have continually carried out a great job throughout the pandemic in ensuring that all waste that can be recycled has been, as diversion from landfill has continued to be a main focus of our business operations.
Not only is waste a valuable resource which recycling helps to maximise, but recycling also helps to protect the environment and conserve resources, it saves energy in making new products and it reduces the need for landfill thereby minimising any greenhouse gas emissions.
As such, Barr would also like to thank the general public for assisting us in our mission to recycle as much waste as possible – without your help our national journey to zero waste would be a far more difficult one.
We encourage everyone to keep up the good work and keep recycling!
#ZeroWaste #CircularEconomy #KeepRecycling