Barr Environmental supporting Scottish Grand National Ladies Day
Barr Environmental is a proud race sponsor at the forthcoming Coral Scottish Grand National Ladies Day meet which takes place at Ayr Racecourse on Friday 20 April.
The Barr Environmental Handicap Steeple Chase (A Novies Ltd Handicap) at 16:15 is one of seven races on the day.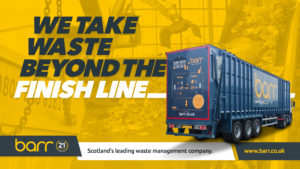 We are delighted to be supporting this premier event at one of the finest racecourses in the UK and wish all spectators, trainers, jockeys (and horses!) the very best of luck in what will be a tremendous day of racing.
Barr Environmental Supporting East Ayrshire Council with Recycling Arrangements
Barr Environmental will be assisting and supporting East Ayrshire Council in the coming weeks with temporary recycling arrangements as essential works are carried out at their Western Road Recycling Centre in Kilmarnock.
Western Road will be closing for essential works on Sunday 8th April 2018 at 17:50 for a period of 7 weeks. Alternative arrangements to recycle and dispose of waste if you are a resident of East Ayrshire during this 7-week closure period will see Barr Environmental support East Ayrshire Council by opening its:
Southhook Waste Transfer Centre, Southhook Road, Kilmarnock, KA1 2NN on a Sunday only with effect from Sunday 15 April 2018 8:00 to 18:00. This site will accept general waste (green bin waste), wood and garden waste. Vans and trailers by appointment booked directly through East Ayrshire Council.
Garlaff Resource and Recycling Centre, Skares Road, Skares near Cumnock, KA18 2RB on extended hours seven days a week from Monday 9 April 2018 from 08:00 to 18:00.
In addition, East Ayrshire Council are offering households in the KA1, KA2, KA3 and KA4 postcode areas (Stewarton Valley, Irvine Valley and Kilmarnock) the ability to present up to 3 additional black bags of residual waste as part of their general waste kerbside collection arrangements, during the Western Road closure period.
The East Ayrshire Council Western Road helpline is available on 01563-554-033 which will be operational 7 days a week, during office hours throughout this time.
An East Ayrshire Council information leaflet on all recycling arrangements during this time can be accessed here. You can also visit East Ayrshire Council's website directly here – https://www.east-ayrshire.gov.uk/news/article/temporary-closure-of-western-road-recycling-depot
Barr Headline Sponsor at CIWM Scotland Golf Day
Barr Environmental were the headline sponsor at CIWM Scotland's Annual Golf Day on Friday 18 August hosted by St. Nicholas Golf Club, Prestwick.
Close to a dozen four balls competed for a variety of prizes sponsored by numerous providers and producers to the Scottish waste industry. Barr Environmental, led by our Technical Manager and team captain John Wilson, secured runner-up spot in the team event.
A great day was had by all with fundraising proceeds going to the Teenage Cancer Trust who aim to create world-class cancer services for young people in the UK, providing life-changing care and support so young people don't have to face cancer alone.
Barr delivers over £5,000 of support to the Ayrshire Hospice
The Ayrshire Hospice has been Barr Environmental's chosen charity for 2017 and throughout the year the business has supported a number of initiatives for this incredible organisation.
More recently a team from Barr Environmental participated in The Starlight Walk which saw hundreds of people traverse through the streets of Ayr and Alloway during a dry (generally!) evening in May. In addition, Barr Environmental acted as the main sponsor for the Ayrshire Hospice Summer Ball which took place in early June at Trump Turnberry.
So far this year Barr Environmental has raised £5417 for the Hospice with a number of other initiatives planned for the rest of 2o17.
Barr Environmental recognised for its commitment to the Scottish Business Pledge
Keith Brown MSP Cabinet Secretary for the Economy, Jobs and Fair Work and Jeane Freeman MSP for Carrick, Cumnock and Doon Valley visit Barr Environmental
Keith Brown, MSP, Cabinet Secretary for the Economy, Jobs and Fair Work together with Jeane Freeman, MSP for Carrick, Cumnock and Doon Valley and Minister for Social Security visited Barr Environmental's ("Barr") head office at Killoch in East Ayrshire on the 24 October 2016 to recognise the leading resource management company's commitment to the Scottish Business Pledge.
The Scottish Business Pledge is a values-led partnership between Government and business. It is a shared ambition of boosting productivity, competitiveness, sustainable employment, and workforce engagement and development. Barr Environmental are one of the first in the resource management sector to commit to this pledge, which includes playing all staff the Living Wage.
Barr have operated from Ayrshire for over 20 years and have invested several millions of pounds in infrastructure to support primarily local authorities in the treatment and recovery of resource from household and organic wastes. With facilities located in Ayr, Kilmarnock, Cumnock and Balloch, Barr has the capability to collect, receive, process, recover and dispose of waste. The business, last year, were also accredited with Investor in Young People and have a strong apprenticeship and graduate program in place, as well as supporting and hosting a number of local STEM (Science, Technology, Engineering and Mathematics) events. Barr have also made significant contributions to the Scottish Landfill Communities Fund which has provided essential funding to community-led projects across the West of Scotland.
During the visit, Keith and Jeane had the opportunity to meet with Directors from Barr as well as a number of trainee's who explained their journey to and through the business and what their ambitions for the future were. Furthermore, exciting plans for the creation of £60 million energy-from-waste facility which would be constructed at Barr's site at Killoch were also presented.
Gavin Money, Director at Barr said, "It was pleasure to host the visit of Keith and Jeane in celebrating our commitment to the Scottish Business Pledge. This is an initiative which we would encourage other businesses in our industry and region to support. We continually invest in the development of our people and recognise the need to create infrastructure to support Scottish Government's Zero Waste Plan and believe this will generate significant benefits in the shape of new jobs and new skills whilst maintaining Scotland's position at the forefront of resource management."
Keith Brown MSP, Cabinet Secretary for the Economy, Jobs and Fair Work said, "This Government is committed to building a fairer and more prosperous Scotland and the Scottish Business Pledge is a key part of our strategy to stimulate inclusive growth, protect and create jobs and promote Scotland as a great place to do business.
"I was delighted to visit Barr Environmental to see first-hand how they are supporting the values of the Business Pledge, including fostering innovation, supporting employees through a commitment to pay the Living Wage and playing an active role in the community."
Jeane Freeman MSP for Carrick, Cumnock and Doon Valley continued, ""I am delighted that this important local company has signed the Business Pledge, making public the commitment to both fair work and to the local community for which they are already well known and justifiable proud."
It's Not Waste, It's a Resource to Reuse
We are delighted to receive new trailers from BMI Group today, which have been released into our operating fleet.
Some months ago we conducted a market study with a large number of visitors to our civic amenity sites and asked them a series of questions about the operational effectiveness of our facilities. We concluded this study by asking the public if they knew what happened to their waste once it was deposited at our site. Every single person responded with a resounding no!
Therefore, in an effort to educate the public and our customers we have developed a simple diagram depicting the journey of waste once it is either collected from homes or received at civic amenity sites. The visual representation is now clearly branded on the back of our trailers with the message that 'it's not waste, it's a resource to reuse'!
Learn more about our resource recovery process here at – https://www.barr.co.uk/resource-recovery-process/ or look out for it when passing one of our new trailers!
Partnering With WRC Recycling
We are pleased to promote our working partnership with WRC Recycling, a Renfrewshire-based company with expertise in transport, logistics and processing of waste.
WRC Recycling are supporting us at Barr by transporting waste to our recycling and resource management facilities in the West of Scotland. At these facilities we operate equipment and processes which enable us to recover resource from waste.
We look forward to developing our relationship with WRC Recycling and supporting our customers in achieving Zero Waste Scotland targets.
To learn more about our resource recovery process go to https://www.barr.co.uk/resource-recovery-process/
To learn more about WRC Recycling visit their website at http://www.wrcrecycling.co.uk/
Ciwm Scotland Visits Barr Environmental
Today, Barr Environmental warmly welcomed new members from the Chartered Institute of Wastes Management (CIWM) Scotland to two of our recycling and resource management facilities in Ayrshire.
Gordon Whiteford, Senior Operations Manager and fully chartered member of CIWM, hosted the visit by explaining the operational and technical infrastructure that has been implemented at our Heathfield and Garlaff facilities that enables the business to recover resource to reuse from waste in a safe and compliant manner.
Visitors were able to view the construction & demolition material recovery facility, transfer station and household waste recycling centre at Heathfield as well as the MSW material recovery facility, garden waste processing facility, leachate treatment and gas regeneration plant at Garlaff. The visit was aided by some glorious Ayrshire weather!
CIWM are the pre-eminent institution for resources and waste management and champion the success of individual professionals and organisations working in the industry. Since 1898, CIWM have led the resource and waste management evolution, promoting excellence and best practice that protects the environment and people and realises the true economic and environmental benefits of effective resource management.
CIWM operates a Scottish centre, the details of which can be found at
http://www.ciwm.co.uk/ciwm/communities/centres/ciwm-scotland.aspx?hkey=95e241b6-a82d-4a99-aae0-a0f49b65d10b
We, at Barr, are delighted to support CIWM Scotland with promoting excellence and best practice in the resource industry.